IMC Krems University of Applied Sciences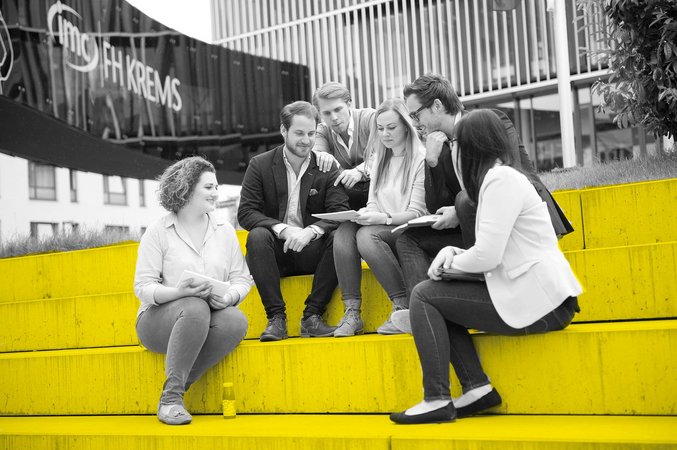 The IMC Krems University of Applied Sciences is characterised as a centre for international and practice-oriented academic education. The high educational quality of the degree programmes in Krems is based on internationalisation, the teaching of modern soft skills and the use of the latest e-business solutions. An international focus and practical relevance are the topmost priorities of all programmes. An excellent academic background, state-of-the-art technical equipment, over 170 partner universities worldwide and many other quality aspects provide students with the skills and competences needed on the international labour market. A mixture of theory and practice, project-related work, an international faculty as well as handson experience make studying a varied and exciting experience.
Faculties and programmes
Business | Health | Science & Technology
Programmes taught in English. Business Administration, BA | Digital Business Innovation and Transformation, MA | International Business Management, BA | International Wine Business, BA | International Business and Economic Diplomacy, MA | Medical and Pharmaceutical Biotechnology, BSc/MSc | Tourism and Leisure Management, BA | Marketing, MA
Programmes in German. Business Administration, BA | Management, MA | Management of Health Institutions, MA | Business Administration of the Public Health Sector, BA | Occupational Therapy, BSc | Physiotherapy, BSc | Midwifery, BSc | Advanced Nursing Practice, BSc I General Nursing, BSc | Music Therapy, BSc and MSc | Environmental and Sustainability Management, MA
Specials
Advantages for IMC Krems students include:
Guaranteed study places (no overcrowded lectures) thanks to limits on student numbers in each degree programme
Fixed programme length within the maximum study period
Personal, friendly atmosphere
Small-group teaching and learning due to limits on student numbers
Close collaboration between professors, lecturers, heads of department, and students
Internships and study abroad programmes
State-of-the-art technical infrastructure (info screens, comprehensive high-speed network, electronic student I.D. card, etc.) and modern interior design
On-campus library induction days: In September the IMC Krems kicks off the academic year with the Induction Days to welcome the new regular and exchange students. This week serves as an orientation phase at the start of the degree programme and is jointly organised by the rectorate, student representatives and the Austrian Student Union (ÖH). It also underlines the University's mutual efforts to ease new students' entry into campus life and helps them to form a close-knit community spanning the individual degree programmes. This introductory phase includes several modules.