Jam Music Lab Private University for Jazz and Popular Music Vienna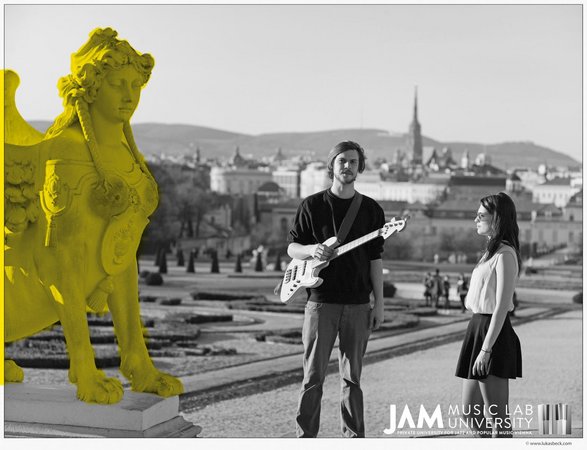 JAM MUSIC LAB is the first music university thatis holistically specialised in jazz and popular music. We are seeking to extend the great tradition of classical music education in Austria by means of contemporary styles in jazz, pop and rock. An innovative setup of curricula interactively combines teaching, professional practice and research, and furthermore focuses on the requirements of the current music market. The university offers a practically orientated music education for future musicians, music teachers and music producers, who shall be able to compete with international standards. JAM MUSIC LAB graduates therefore possess greater advantages over their competitors: Parallel to their individual developments as young artists, they also have the opportunity to experience and engage with work-related challenges that may arise in such a competitive market. Based on these experiences, they will be able to plan an appropriate start and focus on their career.
Faculties and programmes
JAM MUSIC LAB offers 4-year Bachelor and 2-year Master's studies in Music and Music Education, specializing in the fields of pop, rock, and jazz, as well as Media Music. Upon completion, students are awarded a Bachelor of Arts in Music/Music Education or a Master of Arts in Music/Music Education. Additionally, a 3-year Bachelor's degree program in Arts Management is available, leading to a Bachelor of Arts in Arts Management.
Specials
As the first institute of its kind, JAM MUSIC LAB offers committed work experience opportunities, which are systematically integrated into the curriculum. We focus on developing a strong sense of professionalism during the course of their work experience. To ensure that this goal is reached it is an important strategy to work on the various necessary aspects and abilities required to work as a musician.
Renowned international tutors. The faculty staff at JAM MUSIC LAB University consists of the finest international instructors in the musical genres of jazz and popular music, including Grammy Award winning musicians and producers, as well as top class international soloists, music educators and music scholars.
Living in Vienna. Vienna as a location is internationally highly regarded for professional music education. It is a beautiful and secure place in the centre of Europe with a great musical tradition and very high living standards and quality of life.
JAM MUSIC LAB is located at the Gasometer Music City Vienna, a university campus of a total area of over 11,000 m2, which includes student accommodation.