Music and Arts University of the City of Vienna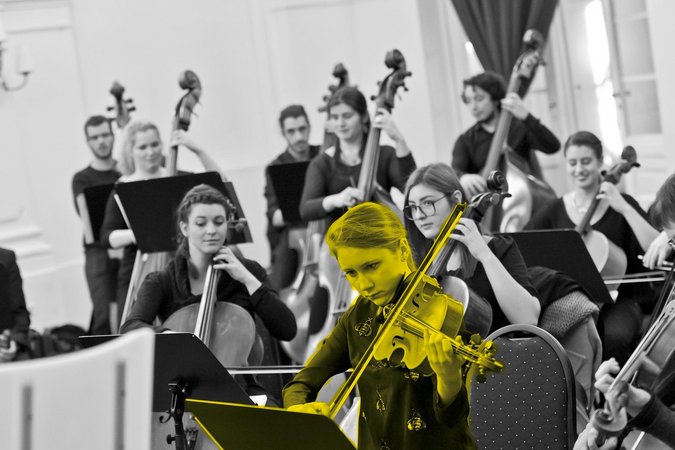 The Music and Arts University of the City of Vienna (MUK) is the first and only accredited private university that is fully funded by the City of Vienna. Evolved from the former Conservatoryof Vienna, it offers a wide spectrum of academic but also practice-oriented courses in the fields of music and performing arts. The range of studies includes more than 30 bachelor's, master's and PhD programmes, academic diploma programmes and preparatory courses. Numerous successes achieved by our 850 students from all over the world in national and international competitions impressively demonstrate the high standard of education. The teaching staff of the MUK is composed of renowned personalities. Several times a year prominent guest professors enrich our programmes. The university offers campus flair in three locations directly in the historical heart of Vienna.
Faculties and programmes
Faculty of Music. Conducting and Composition | Keyboard Instruments |String Instruments | Wind and Percussion Instruments | Early Music | Jazz
Faculty of Performing Arts. Voice and Opera | Musical Theatre | Dance |Drama | Master of Arts Education
Non-degree programmes. Academic diploma programmes |preparatory courses
Specials
Accessible education at the highest level with low tuition fees
Special support for highly gifted young people to fully develop their potential
Interdisciplinarity of the Arts via cross-departmental projects by integrating tradition and modernity
Individual attention for every student (average of three students per teacher)
Successful graduates including Paul Badura-Skoda, Falco, Lidia Baich, Aleksey Igudesman, Elfriede Jelinek, Nicholas Ofczarek, Julian Rachlin, Mihail Sosnovschi, Nathan Trent, Terry Wey or Joe Zawinul
Besides members of the Vienna Philharmonic Orchestra, the Vienna Radio Symphony Orchestra as well as the Vienna Symphony Orchestra, teachers at the MUK include Lidia Baich, Esther Balfe, Roland Batik, Natalia Gutman, Boris Kuschnir, Andy Middleton, Julian Rachlin, Matthias Schorn, Susi Stach, Pavel Vernikov, Linda Watson or Nebojša Živković, among many others.
Within the framework of master classes, seminars and workshops students at the MUK have had the chance to work with e.g. Daniel Barenboim, Bobby McFerrin, Thomas Hampson, Angelika Kirchschlager, Lang Lang, ElisabethLeonskaja, Mstislaw Rostropowitsch, Michael Schade, Markus Stockhausen.
Active promoter of concerts and theatre productions with over 450 productions yearly
Active member of the cultural scene underlined by partnerships and cooperations with leading cultural institutes, universities and initiatives throughout the world.