Kufstein University of Applied Sciences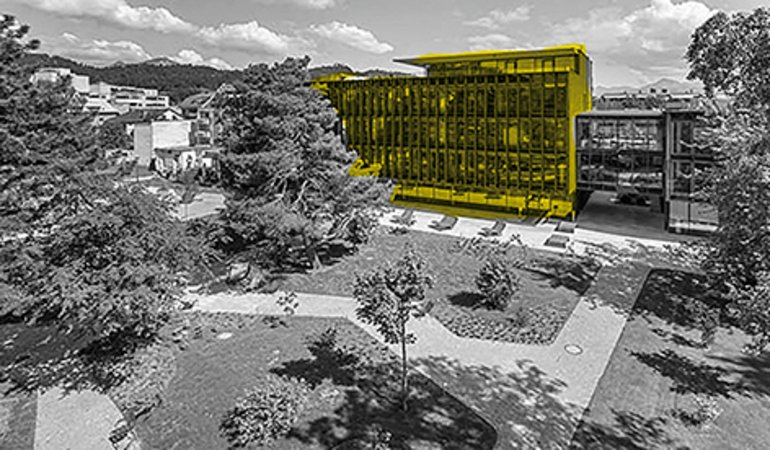 The Kufstein University of Applied Sciences currently has 2,000 students from more than 50 nations who create an international, multicultural atmosphere. With 215 partner universities worldwide the FH Kufstein Tirol hosts 218 international incoming students annually, while an even larger number of our students go out for a semester or year to study abroad. The university employs approximately 450 professors and lecturers with either business or science backgrounds, which makes the FH Kufstein Tirol play a significant role in the regional economy.
Attractive campus in charming surroundings. The FH Kufstein Tirol resides in a building that contains modern lecture rooms and workspaces, a library and a cafeteria. The campus is located in the green, generous park area that lies adjacent to the city centre and provides a lot of possibilities to spend time in the nature.
Faculties and programmes
Bachelor. Business Management | Energy & Sustainability Management | Facility & Real Estate Management | Industrial Engineering & Management | International Business Studies | Marketing & Communication Management | Sports, Culture & Event Management | Web Business & Technology
Master. Corporate Transformation Management | Data Science & Intelligent Analytics | Digital Marketing | ERP Systems & Business Process Management | Energy & Sustainability Management | Facility & Real Estate Management | International Business Studies | Smart Products & Solutions | Sports, Culture & Event Management | Web Communications & Information Systems
Specials
A highly practical orientation, internationality and applied research: Kufstein University of Applied Sciences combines practice and academic education which makes it one of Europe's leading higher education institutions. International exchanges with our 215 partner universities transfer knowledge across all borders. The range of bachelor's and master's degree programmes – offered in both full- and part-time formats – have been conceived to meet the professional demands of the respective industries. Two master's degrees completely in English. By studying "International Business Studies" at the FH Kufstein Tirol you can be assured that you will receive a truly modern higher education. This comprehensive master's degree, with its international orientation, allows students to choose from one of two specialisations whilst simultaneously offering a wide range of electives. The specialisations are in marketing/management and finance. The master's degree in "Sport, Culture & Event Management " provides management skills in the synergetic areas of sports, culture as well as events management with a strong international focus. The programme is entirely taught in English with native speakers from both universities as well as the business field. The main emphasis is on the development of strategic and leadership skills but analysis, conception and research are also central to this programme. Full-time master's degree programme (Master of Arts in Business): 30 places per year; duration: 4 semesters; online applications: www.fh-kufstein.ac.at