Paris Lodron University of Salzburg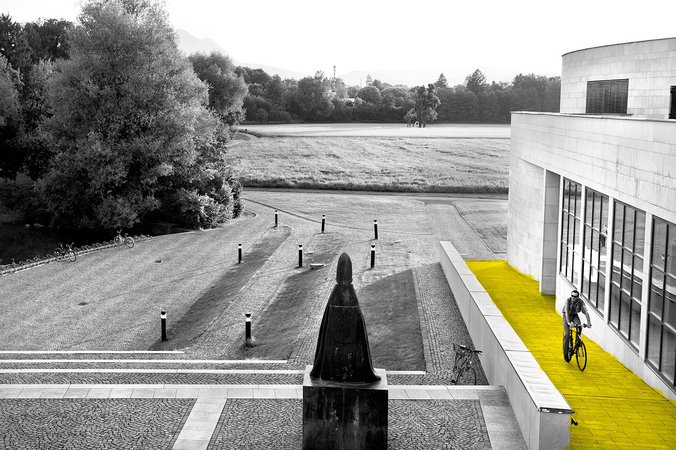 Salzburg is one of the world's most beautiful cities. It has a vibrant music and cultural scene, beautiful natural surroundings and historic attractions. Not only that: Salzburg is a university city with a long tradition. The university was founded in 1622 and named after Prince-Archbishop Paris Lodron. Today, the Paris Lodron University of Salzburg (PLUS) has six faculties with 18,000 students and around 2,800 members of staff. The PLUS offers students a total of 90 study programmes and prides itself on its excellent student-teacher ratio. Additional programmes and international courses enrich students' studies at the PLUS, offering the best prerequisites for specialised (further) education and promising career prospects.
Faculties and programmes
Faculties:
Faculty of Catholic Theology | Faculty of Cultural Sciences | Faculty of Digital and Analytical Sciences | Faculty of Law, Business and Economics | Faculty of Natural and Life Sciences | Faculty of Social Sciences
Study programmes:
Applied Geoinformatics | Applied Image and Signal Processing | Artificial Intelligence | Biology | Business and Economics | Catholic Religion Education | Catholic Religious Education | Catholic Theology | Chemistry and Physics of Materials | Christian Culture, Change & Communication | Classics | Communication Studies | Computer Science | Copernicus Master in Digital Earth | Data Science | Digital Communication Leadership | Digitalisation – Innovation – Society | Ecology and Evolution | Educational Research | Engineering | English and American Studies | European Union Studies | Food-Movement-Health | Geography | Geology | German Language and Literature | History | History of Art | Human-Computer Interaction | Jewish Cultural History | Language – Business – Culture | Law | Law, Business and Economics | Linguistics | Literary and Cultural Studies | Materials and Sustainability | Mathematics | Medical Biology | Molecular Biology | Molecular Biosciences | Music and Dance Studies | Musicology and Dance Studies | Philosophy | Philosophy, Politics and Economics | Political Science | Psycholinguistics, Neurolinguistics and Clinical Linguistics | Psychology | Religious Studies | Romance Languages and Literatures | Science & Arts | Science and Technology of Materials | Slavonic Studies | Sociology | Sport Science and Kinesiology | Sports-Management-Media | Teacher Training
Specials
At the PLUS, students can choose from 34 Bachelor's programmes, two diploma programmes and 26 teacher training programmes with a specialisation. The PLUS offers an excellent selection of 40 Master's programmes, some of which are taught entirely in English. As a high-profile comprehensive university and well-connected research institution, the PLUS not only has an impressive subject offer, but also prides itself on the excellent work of its approximately 2,000 academics in numerous – mostly interdisciplinary – projects. Research-led teaching is a distinguishing feature of the PLUS. This combines the versatile research achievements with an excellent teaching offer for all students. Internationality is an integral part of science and the University. It is one of the central prerequisites for networking and knowledge transfer. The PLUS has around 100 university partnerships for student and teacher exchanges and around 680 inter-institutional agreements with some 350 other higher education institutions within the ERASMUS+ programme. The PLUS is also a member of the European university alliance CIVIS. This lays the foundation for cutting-edge research and ground-breaking innovations based on an unrestricted, cross-border exchange of ideas.